SGTSudsSoap.com
Regular price
Sale price
$56.00
Unit price
per
Sale
Sold out
Introducing the "Try Them All" Bundle by Sgt Suds Soap - the ultimate collection of badass soaps that will leave you feeling clean, refreshed, and ready to conquer the world. This bundle includes eight unique and powerful soaps, each with its own distinctive scent and benefits. Prepare to experience the best of Sgt Suds Soap with this incredible assortment.

Beaver Destroyer (Cedar Wood Tea Tree): Grit: Mild Scent: Fresh-cut cedar This soap combines the invigorating scent of fresh-cut cedar with the gentle exfoliation of activated charcoal and sea salt. Packed with natural oils, organic shea butter, and the goodness of tea tree and patchouli, Beaver Destroyer is designed to moisturize, cleanse, and soothe your skin.

Black Ops Bar (Black Soap): Grit: None Unleash the power of activated charcoal with Black Ops Bar. This soap is specially formulated to absorb excess oil and impurities from your skin, leaving it feeling fresh and revitalized. The combination of natural oils, organic shea butter, and sea salt ensures a deeply moisturizing and nourishing experience.

C4 Scrub (Dead Sea Scrub): Grit: Mild Scent: Fresh earthy scent Experience the essence of the Dead Sea with C4 Scrub. Enriched with Dead Sea salt, Rhassoul clay, and Moroccan clay, this soap provides gentle exfoliation and detoxification, leaving your skin feeling renewed and rejuvenated. The earthy scent will transport you to a serene oasis.

Close Air Support (CAS) (Gobi Gold): Grit: Mild Scent: Oak moss Infused with the essence of oak moss, Close Air Support (CAS) will leave you feeling refreshed and invigorated. This soap features a mild exfoliating texture and a delightful fragrance that will awaken your senses. The perfect choice for an energizing cleanse.

Combat Clean (CC) (Mechanic Soap): Grit: Mild Scent: Citrus poppy Designed for those tough on dirt, Combat Clean (CC) combines the power of poppy seeds with an uplifting citrus poppy fragrance. The mild exfoliation and moisturizing properties of this soap will help keep your skin in top form, ready for any battle.

Keepin Private Clean (KPC) (Cool Spring Scrub): Grit: None Scent: Better Irish Springs Experience a shower like no other with Keepin Private Clean (KPC). This soap combines the soothing freshness of a cool spring with the nourishing properties of sea salt. It's time to elevate your shower routine and enjoy the invigorating scent and gentle cleansing of this soap.

Marops Scrub (MS) (Wakame): Grit: Mild Scent: Coastal sea Immerse yourself in the refreshing scent of a coastal sea with Marops Scrub (MS). This soap features a mild exfoliating texture enriched with sea salt and oatmeal to gently remove dead skin cells and promote a smoother complexion. The addition of peppermint provides a cooling sensation, making it perfect for an uplifting shower experience.

Stewed, Skrewed, and Tattooed (SST) (Bay Rum): Grit: Mild Scent: Bay rum Indulge in the classic scent of bay rum with Stewed, Skrewed, and Tattooed (SST). This soap combines a mild exfoliating texture with the moisturizing benefits of natural oils and organic shea butter. Let the aromatic fragrance transport you to a world of confidence and adventure.
Each soap in this bundle is carefully crafted with high-quality natural ingredients, including coconut and olive oils, organic
Share
View full details
About Sgt. Suds Cobat Clean Bar
Highlights

Introducing STEWED, SCREWED, and TATTOOED (SST), a premium natural soap from SGT SUDS SOAP. This soap is inspired by the brave SPECIAL BOAT OPERATORS of Naval Special Warfare, the Special Warfare Combatant-Craft Crewmen (SWCC), often referred to as & dirty boat guys.

These highly trained sailors operate fast boats with big guns in the worst conditions and places possible. When making this bar, we knew we needed something with a big scent that could help clean up after the dirtiest jobs, and pay tribute to this unique culture.
Ingredients

Crafted from all-natural ingredients, including nourishing oils and butters, this soap is gentle on even the toughest skin, making it the perfect choice for anyone who wants a premium quality natural soap. The rich lather produced by this soap will cleanse your skin of dirt and impurities, while leaving essential oils intact, resulting in a refreshing and hydrating experience.

Whether you are a veteran or a hard-working dude that needs a tough bar of soap, STEWED, SCREWED, and TATTOOED is the perfect choice for paying homage to the heroes of special warfare while keeping your skin refreshed and hydrated. Get your bar of STEWED, SCREWED, and TATTOOED today and experience the difference for yourself!
What people are saying...
I normally would not rave about soap but this $#!+ is amazing. Highly recommend Sgt. Suds!

Saying you love soap sounds stupid but hey you have to try this stuff to truly understand the difference.

Vet-owned, natural, made in America...yeah to me that is important..I care what I put on my skin and what I spend my money on.
Check out our MarOps bar
Sea air and land scents all built into one bar.
Liquid error (sections/featured-product line 1): Could not find asset snippets/spurit_po2_section_snippet.liquid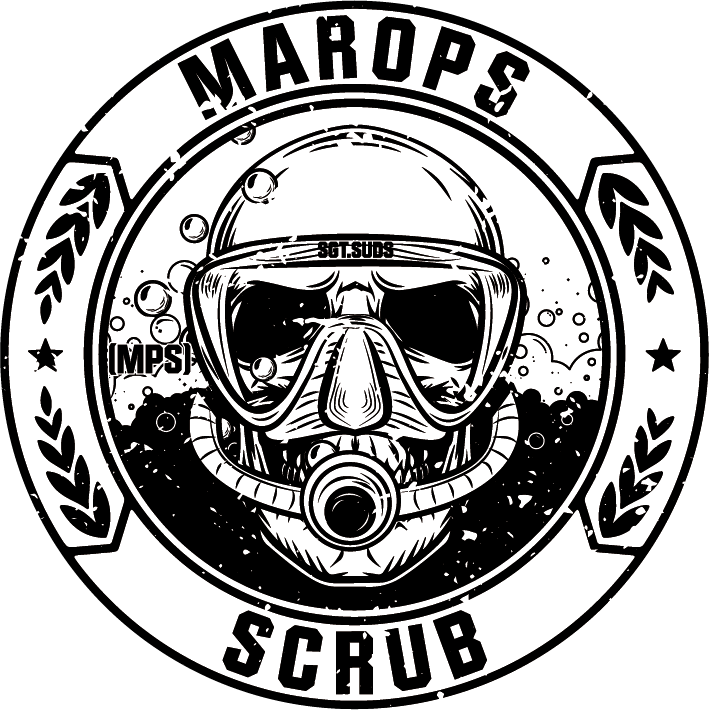 MarOps Scrub Bar Soap
Regular price
Sale price
$8.00
Unit price
per
Sale
Sold out
Share
View full details